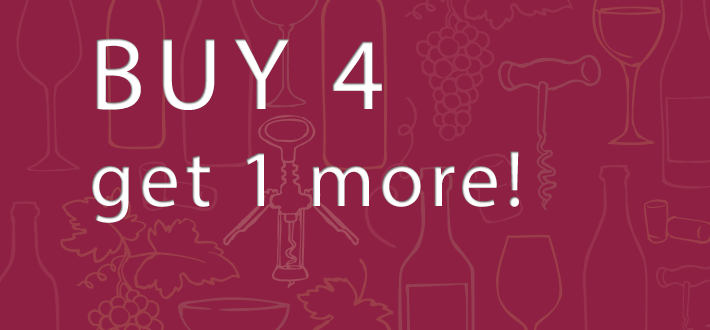 The Martinez Seasonal Offer
BUY 4 Get 1 More FREE Across a range of up to 25 wine/Sherry/Port products. Mix & Match with the lowest priced selected item Free of Charge.
To see the current range on Offer, enter "OFFER" into the Search Products box or visit either the Ilkley or Bingley shop.
Offer applies in Store only and while stocks last.
Product
Grape(s)
Country 
Vintage 
 Retail  Price 
 Description

Red Wine

Boutinot 'Les Coteaux', Côtes du Rhône Villages
Grenache, Syrah
France
2014
9.99
Brambly fruit underpinned by subtle oaky nuances, lovely sweet spice; warm star anise with a touch of cinnamon. A shop favourite.
Recoleta
Malbec
Argentina
2017
10.99
Big shop favourite. Raspberry and spicy plum fruit and low tannins on this unoaked Malbec.
Waterkloof 'Seriously Cool'
Cinsault
South Africa
2016
14.49
40-50 year old vine. Cranberry freshness and texture with taut acidity and tremendous length. Serve lightly chilled or 'Cool'.
Emiliana Coyam, Colchagua Valley (Organic)
Syrah, Carmenère, Merlot
Chile
2013
20.49
Very fruity with cherries, plums, blueberries and blackberries. Fresh acidity, good concentration and good structure that draws out the lingering finish.
Finca MUSEUM Reserva, Cigales
Tempranillo
Spain
2012
17.79
Mature, luscious with red berries and liquorice. 91 Robert Parker points.
Trentham Estate La Famiglia
Nebbiolo
Australia
2013
12.99
Cherry aromas follow to the palate; these flavours are supported by hints of leather and black olive. The same grape used to make Barolo.
BREMERTON 'Selkirk'
Shiraz
Australia
2014
16.49
Rich dark fruit with a Rhone-like gamey, smoky character.
Stellenbosch Reserve 'Hoofgebou'
Cabernet Sauvignon
South Africa
2013
18.99
Full bodied and dark fleshy berry fruit in a smooth sheen of oak. Old School!
Château La Croix de Grézard Lussac-Saint-Émilion
Cabernet Franc, Cabernet Sauvignon, Merlot
France
2010
16.99
Restrained, understated light plummy notes, tight tannins, dusty. Great vintage, great value.
Bodegas Olarra CERRO ANON RESERVA RIOJA
Carignan, Graciano, Garnacha, Tempranillo
Spain
2012
13.49
A soft vanilla nose, with hints of raspberries and smoke drifting onto the palate. Stands out a mile compared to others at this price. 90 Robert Parker Points.
Ricasoli BROLIO Chianti Classico
Sangiovese, Merlot, Cabernet
Italy
2015
17.99
Red fruit, Vanilla & liquorice with a long mineral finish.

White

 
Gran Gesta Cava Brut
Xarel.lo , Macabeo, Parellada
Spain
NV
10.49
A shop favourite, this is the perfect celebration fizz usually liked by all age groups. A fruity Brut.
Broadbent Vinho Verde
Loureiro, Trajadura, Pedernã
Portugal
NV
10.99
The Green Wine of Portugal. Deliciously light at only 9% and zesty too.
Saint Clair 'Family Estate' Marlborough Premium
Sauvignon Blanc
New Zealand
2016
15.49
Passionfruit, grapefruit and gooseberry leap out of the glass. Luscious & enjoyable.
Wente Morning Fog
Chardonnay
USA
2016
15.99
Firm fruit, oak spice and a smattering of vanilla on the finish. This is pretty tasty stuff!
Domaine de la Motte Old Vine CHABLIS (Vegan & Vegetarian)
Chardonnay
France
2013
17.49
Wonderful aromas of baked apple, Old Vines add complexity, richness and depth of flavour. Burgundy Tastevinage award.
L'Ormarine Duc de Morny, AOP Picpoul de Pinet
Picpoul
France
2016
9.99
Incredibly vibrant and fresh - Picpoul is the next big thing.
Laureatus
Albarino
Spain
2015
13.49
Tangerine, mango,pears, apples, herbs and minerality, yum...
Sorrentino Verso (Organic)
Falanghina
Italy
2015
15.49
Native grape of southern Italy. Fresh and zingy with good acidity and an enjoyable herbal edge. Organic too!

Port

 
Krohn LBV Port
Touriga Nacional, Touriga Francesa, Tinta Barroc
Portugal
2011
16.99
Black plums, spice and dried herbs, firm and evident tannins and a rich, long finish. 2011 was an exceptional vintage.
Krohn Vintage Port 2003
 
Portugal
2003
42.99
Crushed by foot & aged in bottle. Spicy, peppery fruit. Decant.
Krohn Colheita 1996
 
Portugal
1996
32.99
This Tawny has a spicy nose full of caramel and dates, backed up with a dried fruit and candied peel palate.

Dessert

 
Bodegas Tora Albala Dulce de Pasas 1/2 bottle Pedro
Ximénez (sweet sherry)
Spain
2015
16.99
Concentrated flavours of orange peel, caramel and fig. Liquid Sultanas.
Bodegas Tora Albala Don PX Gran Reserva 1987 1/2 bottle
Pedro Ximénez (sweet sherry)
Spain
1987
24.99
Dark chocolate, dried figs and plums, raisins and sweet spices; the dense, thick and persistent palate. Liquid Christmas pudding at its very best!

Sherry

 
Valdespino Inocente Machurnudo Fino Sherry
Palomino
Spain
NV
17.99
A textbook Fino. A single vineyard wine, this is the last remaining Fino to be fermented in oak butts.